Pray for: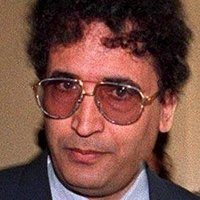 Abdelbaset Ali Mohmed Al Megrahi
Convicted Pan Am Flight 103 Bomber
Released
14 people
Abdelbaset Ali Mohmed Al Megrahi died of cancer on May 20, 2012. He was a Libyan. He was born in 1952. He became a Libyan intelligence officer and served as the head of security for Libyan Arab Airlines and director of Libya's Center for Strategic Studies. He was convicted in January 2001 and sentenced to life in prison for his part in the bombing of Pan Am Flight 103 over Lockerbie, Scotland. On 20 August 2009, he was released from prison for compassionate reasons. He was thought to be in the final stages of prostate cancer. He was expected to die before then end of 2009. He went to his grave proclaiming his innocence.