Pray for: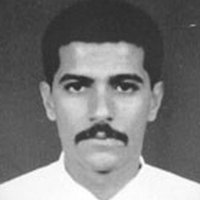 Abdullah Ahmed Abdullah
Al Qaeda Operations Planner
At Large
16 people
Ahmed Abdullah is an Egyptian Al-Qaeda operations planner who helped to establish training camps in Somalia, and he is wanted in connection with the 1998 embassy bombings in Kenya and Tanzania. Just before those bombings, he fled to Karachi, Pakistan and has been thought to be in Iran, Somalia, Afghanistan, Pakistan, or even engaged in the diamond trade in Liberia. He was born around 1963. He has three daughers. The eldest is named Mariam, so he is sometimes called Abu Mariam. The U.S. Department of Justice is offering $10 million for information leading to his capture.