Pray for: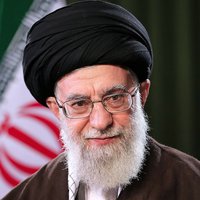 Grand Ayatollah Sayyid Seyyed Ali Hosseini Khamenei
Incumbent Supreme Leader of Iran
Sponsor
33 people
Ali Khamenei was born in 1939 as the oldest of eight children in the humble home of a pious religious scholar. In 1990, a council of experts chose him to replace Khomeini as the Grand Ayatollah of the terrorism sponsoring state of Iran, making him the commander in chief of the armed forces, the final authority on all aspects of foreign and domestic policies, and the top authority on Shia Islam worldwide. Khamenei joined Khomeini's Islamic revolution in 1962, helped found the Islamic Republican party in 1979, and served as Iran's president from 1981 to 1989 during the war with Iraq.
Ali Khamenei on Wikipedia
image source: Khamenei.ir [CC BY 4.0 (https://creativecommons.org/licenses/by/4.0)]