Taliban Aspirations
When the Taliban say that they are pulling out all the stops to usher in an age just like the "golden age of Islam" that immediately followed Mohammad, they aren't kidding.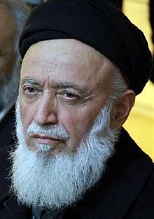 Burhanuddin and the Righty Guided
Former Afghan President Burhanuddin Rabbani follows honorably in the revered footsteps of three of the first four "rightly guided" Caliph's of Islam.
Umar, the second Caliph, was murdered in 644 at the peak of his power.
Uthman, the third Caliph, was killed in his home in 656.
Ali, the fourth Caliph and first Shiite Imam, was assassinated in 661 by a member of his own faction for accepting a truce with his rivals.
On Tuesday, September 20, 2011, a member of the Taliban posing as a peace negotiator detonated a bomb in his turban and assassinated the former president right in his own home.
Treachery and Irony
Burhanuddin Rabbani was President of Afghanistan from 1992 to 1996 in the period between the Soviets and the Taliban. He was also the President briefly in 2001 before the American invasion.
At the time of his assassination, he was heading a council that was trying to build capacity for peace with the Taliban, and he was killed by a Taliban guest who was pretending to be interested in peace.
Source LINKS: