"Terror Verdict Stirs up Vitriol,"
screams a headline in my Denver Post. Former Gitmo detainee Ahmed Ghailani, was convicted on November 17, 2010, in a New York civilian court on one count of conspiring with terrorists, but not on 284 other counts that would include terrorism itself. He faces 20 years to life in prison.
And so the fissure between Americans deepens.
For some, the results vindicate using civilian courts. For others the results prove that the remaining detainees should face military tribunals.
What can bring Americans on both sides together?
Jesus recruited a Zealot and a tax collector to be his disciples. The Zealots wanted to overthrow Rome. The tax collectors perpetuated Roman rule. Jesus united them both on his team as "fishers of men."
Concern for souls can unite political opposites.
Justice and human rights are both important, but a soul's value is infinite. Compared to infinity, the distance to Pluto is very small.
As of his conviction, two people were committed to praying for Ahmed Ghailani. It should be more.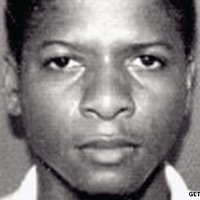 Ghailani's Regrets
While in detention at Gitmo, Ahmed said, "I would like to apologize to the United States government for what I did. . . . It was without my knowledge what they were doing, but I helped them."[1] How close is Ahmed to the kingdom of God? How might some people's prayers affect his eternal destiny? How might praying for people like him affect us and affect how we relate to one another?
Take Action
Use this breaking news as an opportunity to rise above the fissured terrain of political differences to view even our most dangerous enemies; and thus, also each other, from an eternal perspective.
Link to ATFP page for
Ahmed Ghailani
.