Pray for: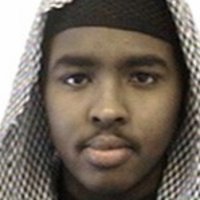 Mohamed Abdullahi Hassan
Jihadist in Al-Shabab
At Large
23 people
Mohamed Abdullahi Hassan became wanted by the FBI at 22 years old on August 4, 2010, for conspiring to support a terrorist organization in Somalia and conspiring to kill persons abroad. He was also similarly charged in August 2009. He reportedly departed for Somalia in 2008 before graduating from Roosevlet High School in Minneapolis. He communicates with friends in the United States and tries to recruit for Al-Shabab. For a while his Facebook profile picture was of Osama bin Laden. As of June 2011, Federal authorities were trying to confirm a report out of Somalia that he blew himself up in a deadly suicide attack in Mogadishu on June 2, 2011.